Amazon Enhanced Brand Content / A+ Content
✔ 18% Higher Conversions
✔ Customized Template for Your Brand
✔ Product Photography / 3D Rendering Included
✔ Professional Graphic Design
Our Amazon A+ Content Portfolio
Our Amazon Enhanced Brand Content (EBC) designs have a track record of boosting business growth on Amazon. EBC, also known as A+ content, is specifically designed to elevate your brand's identity and highlight your product's unique selling points. This approach empowers potential buyers, providing them with the information they need to make informed and confident purchases. Explore our Amazon EBC and A+ content examples below and get services to enhance your Amazon presence today.
We have created 500+ listings on Amazon that generate over $200,000 per month individually.
Discover the impact of our Premium Amazon A+ Content Service in just Six effortless steps
Visualize. Create. Amaze. Repeat
Improve Conversions up to 120%
with Amazon EBC / A+ Content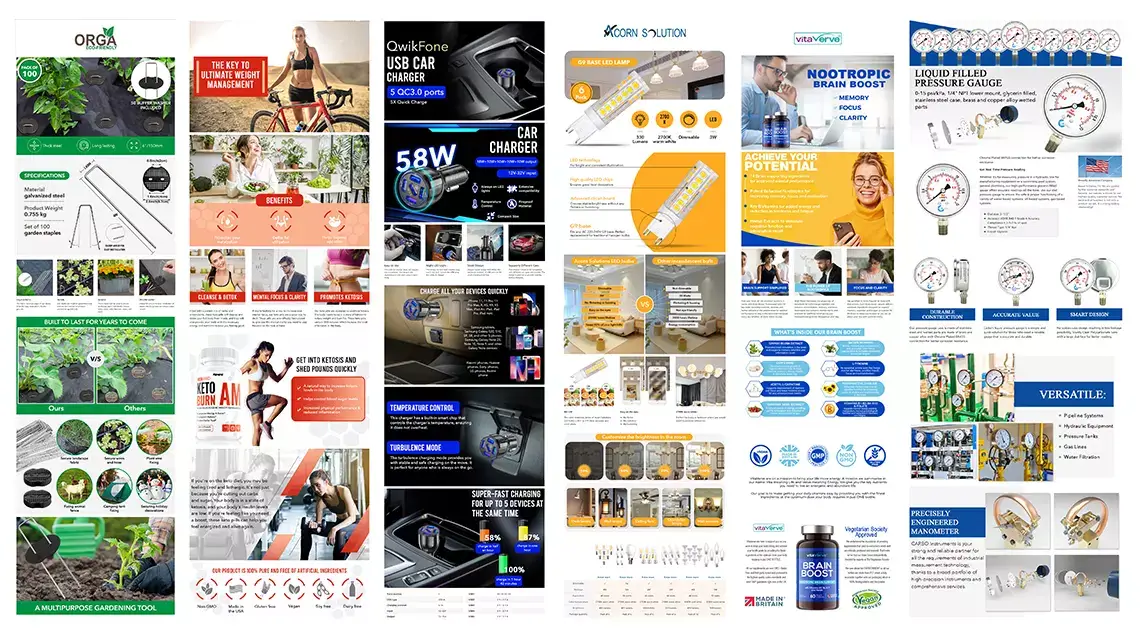 Amazon, the renowned retail giant, has amalgamated Enhanced Brand Content (EBC) and A+ Content into a single entity, now simply referred to as "EBC" This feature empowers brand owners to revamp the product descriptions of their branded ASINs, enabling them to present their products in a more distinct and engaging manner.
Through A+ Content, sellers can captivate potential customers and assist them in making informed decisions about their products. This is achieved by incorporating additional images, imaginative sales copy, and informative charts. According to Amazon, compelling EBC can potentially boost sales by an impressive 3% to 10%. Some records have shown Amazon EBC to increase Amazon conversions by up to 120%
Amazon Enhanced Brand Content goes beyond conventional listings by offering customers a glimpse into your brand identity and product essence, making it a valuable asset for standing out in highly competitive niches.
At The Techload, we possess the expertise needed to optimize your listings. Elevate your product listings with our Amazon Enhanced Brand Content Service.
Eligibility Criteria
It's important to note that Amazon A+ Content is not available to all sellers; it operates on an invite-only basis, and you can only create amazon premium A+ Content once you have been approved by Amazon itself. This feature is accessible to the following categories of sellers:
Brand Owners/Vendors
Sellers who are registered with the Amazon Brand Registry (ABR).
Why Choose Us?
Our Enhanced Brand Content service can significantly enhance your selling performance on Amazon. Here's how:
Enhances the visual appeal of your listings.

Boosts conversion rates by providing a more engaging shopping experience.

Empowers customers to make confident purchase decisions.

Reduces immediate bounce-offs, increasing the likelihood of conversions.
Stories of Satisfaction and Success
What Information Do I Need to Provide?
Product ASIN.
High-Resolution Images (White Background/Lifestyle Images).
Competitor Listings.
Design References (Optional).
Key Points to be showcased (Benefits & Features).
Limited Access to Seller or Vendor Central to Upload EBC (Optional).
Frequently Asked Questions
Here are some common questions and answers regarding our Amazon A+ Content Service